20 Cute DIY Halloween Costume Ideas for Your Kids
In need of easy cute DIY halloween costumes for kids this Halloween? Here are 20 trick or treat costume ideas for 2018. Check it out! | Photo by rawpixel on Unsplash
Halloween is just around the corner and if you want to save money from buying a ready-made costume, why not hit two birds with one stone and make one that will make your kid stand out from the rest? Here are 20 cute and easy DIY halloween costumes for kids!

DIY Halloween costumes for kids
We rounded up cute do-it-yourself  costumes that would look adorable on your kid.
Who doesn't love a warm bowl of mac and cheese? Dress your child as this life-size comfort food with toilet paper rolls, cartolina, and a laundry basket.
Materials needed:
-toilet paper rolls or yellow cartolina
-round laundry basket
-cardboard box
-paint
-yellow hoodie
Instructions:
Cut a hole at the bottom of the laundry basket to fit the hips of your child.
Cover the basket with paper mache, paint over copying the mac n cheese packaging. You can also just remove the label from a microwaveable mac n cheese, enlarge, and print.
Paint toilet paper rolls yellow to make the macaroni. You can also use yellow cartolina and make noodle shapes. Fill the laundry basket with noodles, and attach some to the hoodie.
Draw a fork shape on cardboard and cut it out. Attach several toilet paper rolls for the handle. Paint them silver.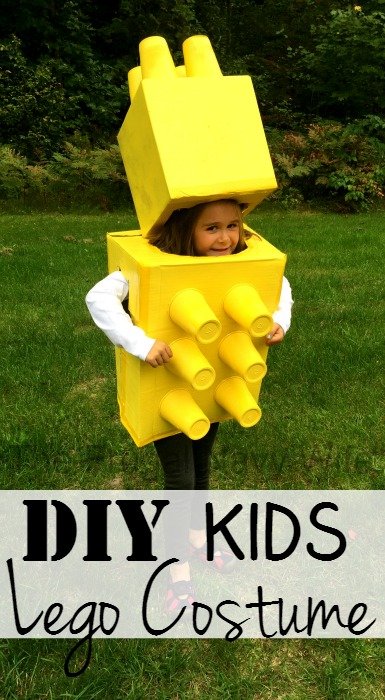 Making this Lego costume won't be as painful as stepping on one! Most of the materials are also readily available in your home.
Materials needed:
-square-shaped cardboard box
-rectangle-shaped cardboard box
-plastic cups
-duct tape
-scissors
-glue gun
Instructions:
Cut a hole at the bottom of the square-shaped box, this will be your hat box. Measure one of your kid's hats to have an idea how big the hole should be.
Using the glue gun, stick plastic cups on top of the hat box. If you can find colored plastic cups, better. Otherwise, paint them your in your desired Lego color.
Cut a hole on top op of the rectangular-shaped box. This hole should be two to three times bigger than the hole on your hat box.
On the same box, cut arm holes. Make sure the holes are on the upper portion of the box so your kid would be comfortable moving in them.
Use the glue gun to stick plastic cups in front of the larger box.
Paint the boxes according to your desired Lego color.
These costumes can work on their own but better when worn together. Fashion the  singing duo from Disney and Pixar's hit film Coco by rummaging in your closet for a similar outfit, then strap on a guitar to complete the look. Bonus points for singing!
Materials needed:
-red hoodie, jeans, brown shoes (for Miguel)
-white suit, white shoes, cardboard hat, gray neckerchief (for Ernesto dela Cruz)
-wire, cardboard, pencil, scissors, glue gun, paint (for Ernesto's hat)
-guitars
-black gloves and white paint
-face paint
Instructions:
Make the hat by measuring your or your kid's head with a flexible wire. Trace this for the opening and the top part of the hat.
Follow the wire's pattern to create a wide brim for the hat. Assemble the hat using a glue gun. Paint it white.
Paint skeleton bones on a pair of black gloves.
Use black face paint around the eyes and nose, and white for the rest of the face.
No need for sewing skills with these costumes inspired by Poppy and Branch from the 2016 Dreamworks movie Trolls. Safety pins and a hot glue gun can work!
Materials needed:
-headbands
-tulle fabric, yarn or crunchie
-ribbon
-cartolina or crepe paper
-vest and shorts (for branch), strapless dress (for Poppy)
Instructions:
For the "wig," cut tulle fabric into strips and tie them around the headband. Gather the top and tie with a yarn or thin scrunchie
Cut the green cartolina or crepe paper into arc or leaf shapes, and glue them onto the vest. Make sure to only glue the top part so they appear like leaves.
Glue square shapes of cartolina on Branch's shorts.
Sew or hot glue ribbon straps on Poppy's dress. Do the same on the dress's edge.
Cut leaf-shaped cartolina or crepe paper and hot glue on Poppy's dress.
Is it a kid or a part of the garden? You only need two or three materials for this costume, and you don't even need to get your hands dirty. You can also make your child carry a watering can to put all the candies in!
Materials needed:
-brown onesie and bonnet
-garter
-big plastic pot
-decorative plant
-glue gun
Instructions:
Cut out the bottom of the plastic pot. Make sure the planter is big enough for your child's hips.
Using a glue gun or an epoxy, glue the garter straps on the inner part of the pot.
Hot glue the decorative plant on the bonnet.
People would have a hard time resisting themselves from grabbing at your child's costume just to see if the cotton candy is real! You can have go wild and make color combinations too.
Materials needed:
-polyester pillow filling/batting
-spray paint or dye
-large white t-shirt
-cardboard box
-headband
-Glue gun
Instructions:
Spray paint or drye the polyester filling according to your desired color. Make sure to wear rubber gloves when using the dye.
Make a cone shape hat out of the cardboard. Hot glue on the headband.
 Hot glue clumps of batting around the cone until it looks like cotton candy.
Do the same for the t-shirt. The shirt needs to be large so you can cover you child's whole body.
It doesn't matter whether you're a fan of the 1990 original film or the 2017 remake, Pennywise from It is one scary character!
Materials needed:
-white long-sleeved inner shirt
-white pants
-white tulle
-red hair dye and face paint
-red pompoms, ribbon, balloon and string
Instructions:
-Sew white tulle as collar on the inner shirt, and add two other layers, with the bottom layer reaching your child's elbow. Do the same on the pant's ankles.
-Attach red pompoms on the shirt placket, like buttons.
-Sew or hot glue thin red ribbon as piping on the shirt's cuffs and waist part.
-Use face paint and red hair dye (make sure they're non-toxic) to complete the look.
Dressing up as food is always a hit, and coming as the campfire favorite Smores is sure to elicit awe from the crowd.
Materials needed:
-flannel or similar fabric
-black long-sleeve inner shirt
-brown paint
-sewing machine, or thread and needle
Instructions:
Cut flannel fabric into leaf-fire shapes, and sew them into the inner shirt. You can also cut log and rock shapes to complete the campfire.
Make a white flannel hat and use brown paint to draw "burn" marks from the fire
Sew brown flannel into a tote and use brown paint to make it look like graham crackers.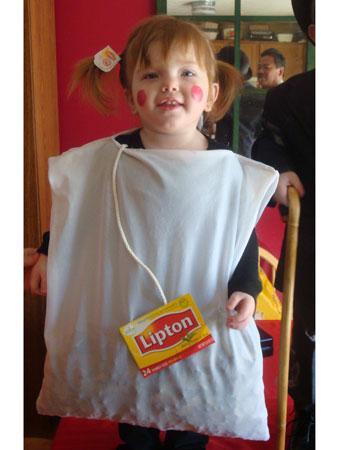 One easy costume to create, and your child's cuteness is all it takes to make this tea bag costume a hit.
Materials needed:
-large adult t-shirt
-rolled-up paper
-string
-tea wrapper
Instructions:
Cut the neck and arm holes of the t-shirt. Sew the sides, leaving the arm holes open. Sew the bottom, leaving a hole for the legs.
Once worn, fill the shirt with rolled-up paper to make them look like tea leaves.
Attach a string and an enlarged printout of tea wrapper at the end.
Make the adults reminisce about the '80s with this Aerobics-inspired outfit.
Materials needed:
-glittery or sparkly onesie
-pink tights
-leg warmers
-head and arm bands
-rubber shoes
-lunch box with radio design
Instructions:
Dress your kid up and blast the 80s music!
Get your kid Neverland-ready with a Peter-Pan outfit.
Materials needed:
-fabric for hat and shoes
-green t-shirt
-brown skinny belt
-green leggings
Instructions:
Sew a triangle-shaped hat. Cut red fabric in the shape of a feather and attach it to the hat.
Cut the sleeves and bottom edges of the green t-shirt in a triangular pattern.
trim brown fabric into strips and attach it to your child's brown shoes.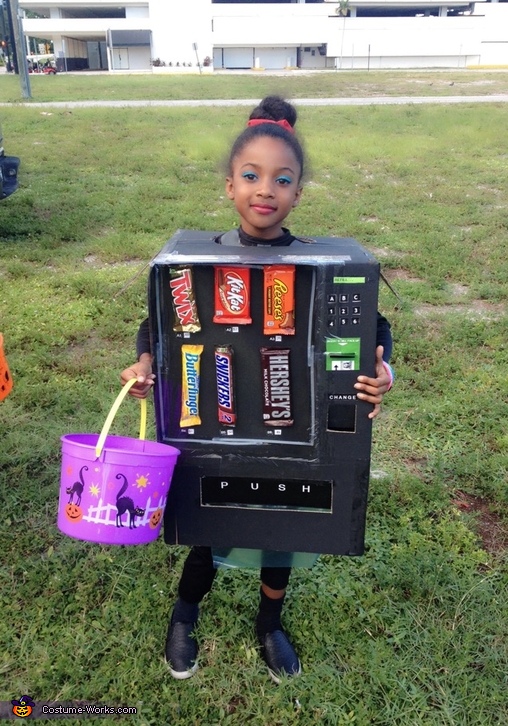 Tell the adults the candy inside the machine is running out and it needs to be refilled!
Materials needed:
-box
-black and white paint
-candy
-scissors
Instructions:
Cut holes for the head and arms.
Cut out niches for the window display, keypad, change, and dispenser.
Stick candy in the machine for the window display.
Paint the box black and write the words in white paint
Remind the kids to eat their vegetables with a salad costume.
Materials needed:
-large t-shirt
-crepe paper
-cartolina
-sponge
-red balloons
-cardboard
Instructions:
Cut out green crepe paper for the salad greens. Hot glue them on a t-shirt.
Cut out cartolina for the eggs and other trimmings.
Inflate small red balloons for the tomatoes.
Cut up a small sponge for the croutons.
Trace the cardboard with a spoon and fork shapes and cut them out.
Disney Princesses as costumes never go out of style. Make your child go as Ariel from The Little Mermaid.
Materials needed:
-Organza fabric
-sparkly tights
-red yarn and old stockings
-purple bikini top
Instructions:
Trace a fishtail pattern and sew the tail. Cut the chiffon into arc-shapes, and sew them onto the skirt to create the fish scales.
Make a wig out of red yarn. Sew or glue the yarn onto a pair of old stockings. A shower cap can work too.
This costume is great for kids who love firefighters but want to spice up their costume-game.
Materials needed:
-foam
-styrofoam
-garter
-battery-powered lights
Instructions:
Make the headdress by cutting up the foam into the shape of a flame. Stack and glue the foam shapes together.
Cut up the styrofoam into the shape of a smoke alarm. Attach garter straps on top.
Use battery-operated lights and stick them on the smoke alarm (optional).
Nothing sweeter than dressing up as candy on Halloween!
Materials needed:
-Fleece fabric in white, orange, and yellow
-dress for pattern
-scissors
-sewing machine/needle and thread
Instructions:
Cut and sew the fleece fabric in three thick panels.
Place the dress on top of the fleece and trace the shape for pattern.
Cut the excess fleece and sew again if needed.
You can also sew a hat and bag.
Make your kids dress up as this board game staple, and put the number of dots on the dice depending on their age.
Materials needed:
-box
-white and black felt or cartolina
-scissors
Instructions:
Cut out head and arm holes on the box. Leave the bottom open for comfort.
Cover the box in white felt or cartolina. You can paint them too.
Cut the black felt/cartolina in circle shapes and glue them on the die. If your kid is 3, put three dots on the die.
The live-action Aladdin is coming in 2019, get your kid excited by watching the animated version and dressing up as the main character for Halloween.
Materials needed:
-old purple t-shirt
-white pants
-cardboard
-felt paper/fabric
Instructions:
Cut the old purple t-shirt into a vest.
use a cardboard for the belt to hold its shape. Cover with felt paper or fabric.
Cut a plastic or paper cup for the hat. Cover with felt paper or fabric.
Dress your child as a cupcake using materials found inside your home.
Materials needed:
-towel
-lampshade
-pompoms or colorful paper
Instructions:
wrap the towel around as the frosting.
Use the lampshade downside up as the cupcake holder.
Glue pompoms on the towel. You can also cut up colorful paper into strips and make it look like sprinkles.
Make the storybook characters come to life with this cute group costume.
Materials needed:
-black and red sweatshirts and pants
-white and red felt fabric
-fabric paint
-blue bonnets
-blue yarn
Instructions:
Sew the white and red fabric into a top hat for Dr. Seuss.
Tie the red felt into a ribbon for Dr. Seuss.
Paint "Thing 1" and "Thing 2" on the red sweatshirts.
Sew or hot glue the blue yarn onto the blue bonnets.
Do you have any costume ideas to share for those who want to make DIY Halloween costumes for kids? Comment below!
Also read: Trick or treat 2018: Halloween events and activities in Metro Manila malls